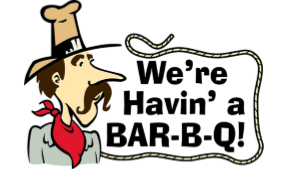 SEPTEMBER 19
(No General Meeting)
Edith Morley Park 11:30—2:00 Campbell Technology Parkway
and McGlincy Lane
$7/person or $5/AARP Member IF
You bring a potential chapter member.
Call Paddy 249-3263 or Marilyn 377-6882 BEFORE SEPT 9.
NO lunch tickets will be sold at the park.
CATERED MENU
BBQ Ribs              BBQ Chicken          Cole Slaw
Burger  (Beef/Chicken/Vege)                Caesar Salad
Corn on the Cob    Beans & Franks       Potato Salad
Fresh Fruit             Cupcakes                 Drinks
PLEASE CARPOOL FROM HOME.  LIMITED PARKING AT PARK. BE SURE TO DISPLAY GOLDENROD MAP ON DASHBOARD AS YOUR PERMIT. Bring a comfy chair & games if you like.